Bulgarian Refugees (1948)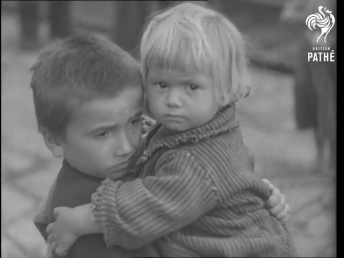 Year:
1948
Country:
United Kingdom
Section
:
chronicle
Tags:
bathing
,
boy
Keywords:
Pathe
Description:
Sofia, Bulgaria. Abducted Greek children reach Sofia for upbringing on the East European plan.
Greek refugee children disembarking from train in Sofia, Bulgaria. Several shots of the refugee children. Little boy carrying his younger sister. Bulgaria Red Cross nurses with refugee children. Doctor and nurse examine refugee children. Refugee boy has hair cropped. Two young girl refugees. Emaciated boy refugee is washed. Child crying. Nurses washing children. Nurses putting clean clothes on refugee children. Old woman refugee with children in her lap looking on. Refugee boy feeding younger brother from enamel mug. Two cropped haired boys eating at the table, pan to another boy.
Video Added:
15.08.2020