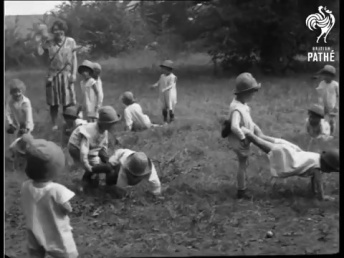 Happy SchooldaysYear:
1932
Country:
United Kingdom
Section
:
chronicle
Tags:
boy
,
girl
,
sunbathing
Keywords:
Pathe
Description:
"Here's a French babies' school, where they believe in the open-air treatment." L/S of large group of children sitting in the open air. "A good start - a drink for thirsty little ones." C/U of woman pouring liquid from a bottle into little metal cups held by the children. C/U of a group of five children - they all wear the same romper suits and hats.
"Lessons for the puzzled ones..." High angle of group of children at a table. L/S of children sitting at tables, little girl walks around giving out pencils. C/U of boy drawing or practising his writing. C/U of boy with head in his hands. "Diversions of all sorts to build up little bodies..." L/S of children doing ring-a-ring-a-roses holding hands. They put their hands in the air and clap them. Cute shot of the kids lying on their backs and kicking their legs in the air - some kind of keep fit exercise. The children then do "wheelbarrows" - propelling each other around the garden.
M/S of the children sitting in three lines hanging onto each others ankles and rowing (like the "Oops Upside Your Head" dance so popular in the early 1980s!) C/U of a naked girl having her chest measured. The nurse or teacher is telling the girl to take deep breaths. C/U of two little rascals. L/S of two women watching over the children as they all lie on the ground for a snooze. "And, of course, a rest, well-earned - whether on the ground..." Cute shot of some of the kids dozing. "...or the regular siesta." M/S of some of the other children sleeping on canvas beds. C/U of one child asleep. C/U of another child, lying on its tummy with its bum in the air! Cute.
Video Added:
23.08.2020