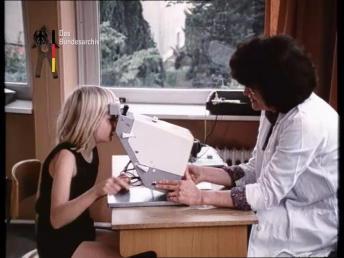 Deutschlandspiegel 1979 nr. 301
Year:
1979
Country:
West Germany
Section
:
documentary
Tags:
boy
,
girl
Description:
1st year of the child. Asian child's face filling the screen. Children's faces close-up shots, laughing, crying. Child born on the back of the mother. Photos of children on the world exhibition of photography.
S/W: twin girls in bath. Asian children, col: Child on horse carousel. Negro with MP.
S/W: hungry children of the third world.
Col: Negro with sad eyes. Study of children's playground. Game on football field. Baden. Walk with parents. Criminal Justice building in Hamburg. Boy goes along long hallway between father and mother. Blonde girl big. Blonde girl on Monkey bars. Kindergarten group walk (going to still photo motif is repeated in the film). Children play in kindergarten, father pushes a stroller. Children bath linen. Concrete housing castles. Playgrounds. Grilling in the open air. Children work on adventure playgrounds. Backyard games. Children playing ball on the road. Cycling between cars. Children with schoolbags walk home. Photos: accidents with children. Game of traffic Kadir. Excited children as spectators. Police children transport lessons. Police officers with children crossing the street on pedestrian crossing. Graders with bright yellow headgear. Traffic light switches to green. Traffic playground. School doctor examine the child. Cradles, listening, hearing and vision test. School Sports Hall. Ball game. High jump. Throwing, running. Smog. Chimneys of city. Cars in the parking lot. Older pupils of secondary school on the schoolyard. Students in the cafeteria. Close-ups of children. Class. Teaching in schools with mentally and physically disabled children. Healthy children playing with sick children. Common lessons. Blind child with reader. Jumping on a trampoline. Blind child runs. Children in hospital. Doctor at the bedside of a child. Time wall in the hospital. Parents in sickroom of the child. Playing with a child. Feeding and washing. Families stroll. Bicycle tour. Walk with prams. Football match on grass with father, mother and children. Kids in the sandbox. Campsite. Swimming in the sea. Children on the beach. Children can get balloons. Children's Festival: Driving in children's railway. Bouncy ball game, football goal wall shooting. Painting on time wall. Climbing children on game structure.
Video Added:
24.03.2023